Description
High Quality Fast Charger (car use) for Android/Apple mobile phone
. 
Remax RCC215, a compact product, will perform well on any trip, whereas advanced protective systems will provide safe charging without overheating or short circuit risk. This device is recommended particularly to drivers who go on bumpy roads because stable structure prevents uncontrolled disconnection from the cigarette lighter socket.
Major features:
Powered from cigarette lighter socket
LED Voltage display , real-time monitoring
Type-C + USB Output: Simultaneous charging of two devices
Support multiple fast charge protocols
Protection against overheating and short circuit
Pull-ring structure
Compatible with most devices powered from USB port
A fast charging output of 58.5w high power, compatible with various phone models
Aluminium alloy material + Oxidation process , highlighting an advanced metal texture
Ergonomic shape for comfortable use
Designers of this small charger has made sure it is very handy, also on bumpy roads. A solid structure and well-selected shape make the charger stick to the cigarette lighter socket securely in any situation. Thanks to soft backlight, you can intuitively support USB ports when it is dark too.
Security during charging
Thanks to the use of smart protection system, your devices are fully protected during charging. You don't need to worry about short circuit, overheating or overloading. A built-in chip is responsible for separating energy of two devices at a time.
Compatible with most devices
This is a universal charger used to provide energy to diverse devices which adopt USB and USB Type C ports. It will be a perfect choice if you wish to charge your phone, tablet, smartwatch, GPS unit and many other. It cooperates with such products as: Apple, Samsung, Huawei, Xiaomi, Sony ETC.
. 
SPECIFICATIONS
Brand Name: Remax
Product name: Salo Series 58.5W PD QC Fast Charger
Model number: RCC215
Colour: Silver
Type: Car charger
Number of ports: 2
Input: DC12-24V
USB Output: 5V/4.5A 4.5V/5A 5V/3A 9V/2A 12V/1.5A
Type-C Output: 5V/3A 9V/3A 12V/3A
Power: 58.5 W (watt)
Material: Zinc Alloy Material
Dimensions: 65.3 x 33 x 25.2mm
Place of Origin: Guangdong, China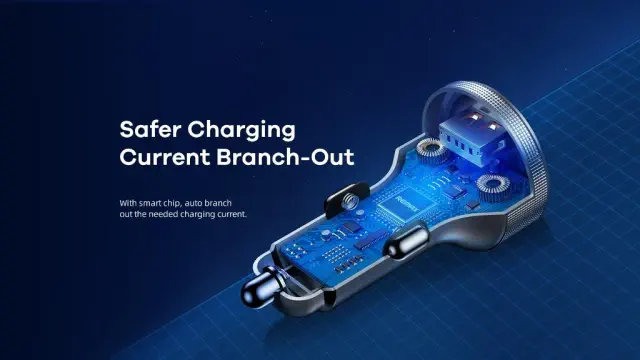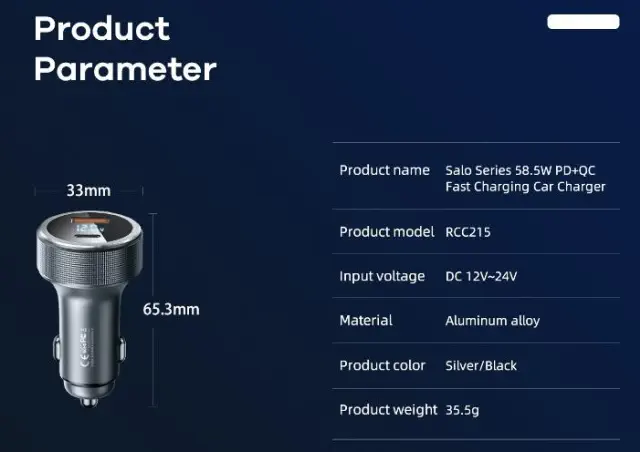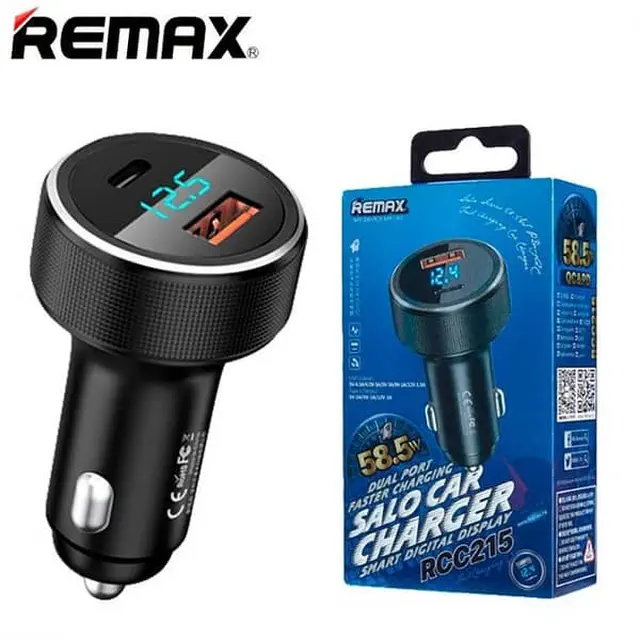 .
Note: We recommend that you make the purchase decision after comparing with other similar products on our store.
Only Good Tech for Good Life… (at Haziq Tech)