Description
High Quality Wireless Earphones (earbuds) from Lenovo
.
Lenovo XT90 Earphone Features
Long battery life
13mm Dynamic Driver
Bluetooth V5.0 chip
Low Latency
IP54 Waterproof
BT 5.0 technology ensures higher data transfer speed, stable and fast connection, and low power consumption.
True wireless dual-ear design, left and right earphone channels are separated. It can be used solely or in pairs.
Touch control design, no more pressure on your ears. Easy to control music and calls, and activate voice assistant.
Built-in Mic on both earbuds with intelligent noise reduction delivers clearer talking sound in stereo mode.
A 300mAh charging case can charge and store the earbuds. 35mAh battery in each earbud ensures about 3 hours of music time.
3.5g lightweight and mini size fit well to your ear canal, providing a long time wearing comfort and stability.
.
SPECIFICATIONS
Brand: Lenovo
Model: XT90
Colour: White
Wearing Type: In-ear
Material: ABS+PC
Microphone: Yes
Bluetooth Version: V5.0
Supported Profiles: HSP/HFP/A2DP/AVRCP
Support Audio decoding: AAC
Transmission Distance: 33 feet (10m)
Frequency Response: 20-20kHz
Battery Capacity Earbud: 35mAh* 2
Charging Box: 300mAh
Charging Time: 1h
Music Time: 2-3h
Standby Time: 300h
Interface: Type-C
Waterproof: IP54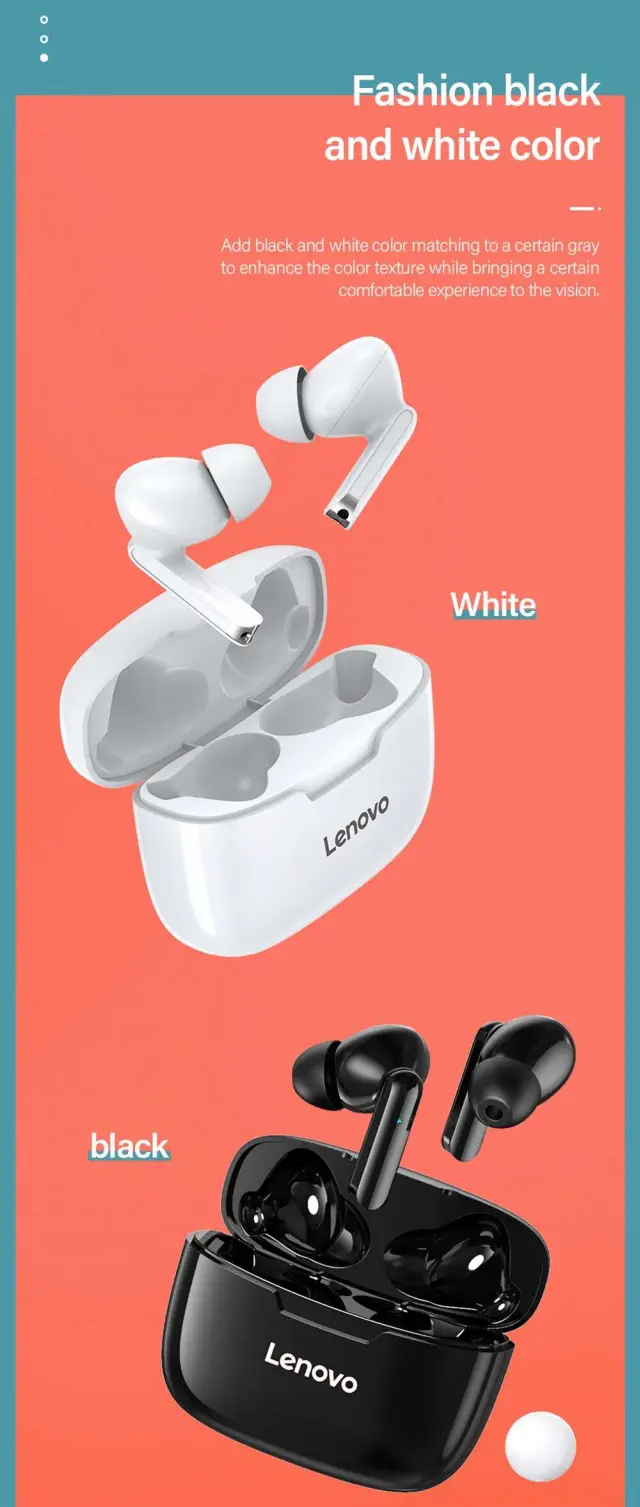 Charging Case
Overall, The Lenovo wireless earbuds adopt a simple design. For the charging case, it has a familiar design in the form of an oval square, small and light, and a weight not exceeding 50g, made of black or white glossy plastic with a logo trademark Lenovo printed on the front of the charging case.
Lenovo XT90 Earphones
Lenovo XT90 wireless earphone has a small elegant design and a glossy black or white colour and the most important, the shape is light about 3.5g only to be comfortable on the ear and with stability during movement that helps it in this, soft silicone ear tips with a circular hole to relieve pressure inside the earphone, Which can balance indoor and outdoor air pressure, and ventilation.
Lenovo XT90 Waterproof
These Lenovo XT90 Earbuds have IPX54 waterproof, so they are protected from rain and sweat but shouldn't be submerged completely in water. For this will not become uncomfortable in the long run to give you the freedom to effectively use the earbuds in any sports environment or otherwise.
Sound Quality
The Lenovo XT90 Earbuds have a wonderful stereo effect, as it contains well-defined tones, as well as powerful bass and crisp mid-highs to deliver perfect performance in the full range with a better sound stage, rich sound, and excellent quality, thanks to the Dynamic Driver that combines dynamic units size 13mm steel reinforcement, so that dynamic sound delivers smooth, natural sound of pop, rock, and other strong rhythms.
Conclusion
It is a good investment with a great combination of good sound quality for dynamic drivers and elegant design, this is to satisfy lovers of sound quality. They are cheap earbuds, but at the same time, they provide you with everything you need in any wireless headphones.
.
Note: We recommend that you make the purchase decision after comparing with other similar products on our store.
Only Good Tech for Good Life… (at Haziq Tech)