Description
Activate and make portable, your idle hard drive with Baseus Hard Drive Enclosure
.
Baseus originates from the core value "Based on User". Baseus are passionate to create minimalist products with easy-to-use design and haut class texture that cover all user's preferences.
[2.5″ External Hard Drive Enclosure]: Easily connects your 2.5 inch SSD & HDD to PC, laptop, PS4, Xbox for data transfer or expanding storage. It protects the hard disk from outside scratches and makes SATA hard drive portable for the data storage. It is awesome for booting up old HDD/SSD and recovering important files of broken PC.
[Easy Installation]: Tool free installation; Plug and Play; No Reboot and Driver needed; USB 3.0 connection offers data transfer rates of up To 5 Gbps.
[5Gbps with UASP Accelerated]: The maximum data transfer speed of the USB 3.0 interface is 5Gbps. The SATA interface of this enclosure supports UASP accelerated transmission protocol, 70% Faster than conventional USB 3.0 when connected to a computer that also supports UASP. Backward compatible with USB 2.0 or 1.1 ports.
[Secure Hard Drive Friendly]: The blue LED indicator lets you know the working status easily. The attached EVA foams inside protects your hard disks from improper shaking and scratches. With a detachable 30cm cable, it is quite flexible to connect and take along.
[Universal Compatibility]:Supports Windows, LINUX, Mac OS 8.0 and above systems. Designed for 2.5 inch 7mm/9.5mm SATA HDD & SSD up to 6TB. Compatible with WD, Seagate, Toshiba, Hitachi, Samsung, Crucial, SSD and HDD with SATA port and so on.
Ideal for harnessing your old 2.5 "HDD and SSD hard drive as an external USB drive, it will provide you greater convenience of use and versatility of digital data storage. An ideal choice for digital lovers, movie lovers and business elites.
USB 3.0 with UASP, Faster and More Efficient
The enclosure comes with the USB 3.0 connection enhanced with the UASP protocol, and significantly increases the data transfer rate, delivering up to 70% faster performance than conventional USB 3.0 connection.
Plug and play, no driver needed.
Easy assembly in seconds, tool- free.
Equipped soft EVA foams on inner sides, protecting your hard disks from improper shaking and scratches.
USB-A Male Connection: Laptops running Windows 10/8.1/8/7/XP/Vista, Mac OS, Linux or Chrome OS; Game consoles like PS4, PS4 Pro, PS3, Xbox one, Xbox 360; Raspberry Pi; TV; Router, etc.
 SATA 15+7 Pin Female Connection: 2.5″ SATA III / II / I HDD and SSD, compatible with Seagate, Samsung, WD Blue/Green, SanDisk, Crucial, PNY, TOSHIBA, DREVO, Gigabyte, YUCUN etc.
Notes:
For UASP, make sure the device, OS and controller have the UASP function enabled.
Always safely remove your disc before unplugging this product.
For the 7mm hard disk, it is necessary to add the additional EVA pad between the hard drive and this box.
Win XP 32bit system does not support 2TB above HDD.
.
SPECIFICATIONS
Installation: Sliding Cover
Systems: Windows / Mac / Linux
.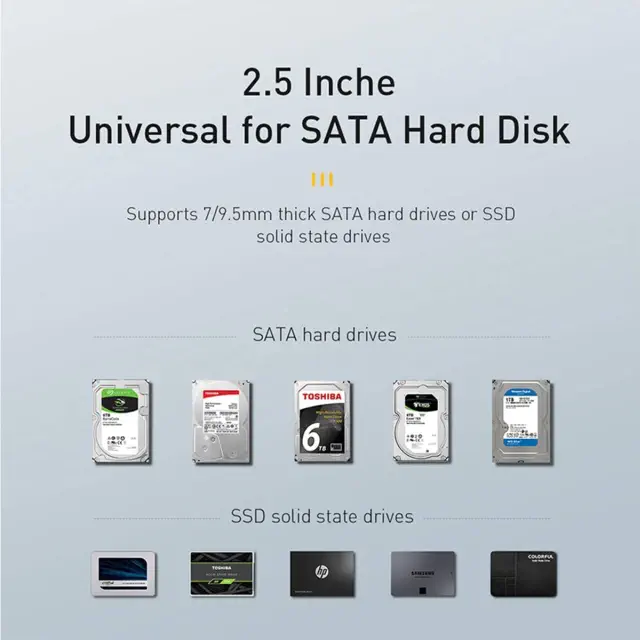 .
Note: We recommend that you make the purchase decision after comparing with other similar products on our store.
Only Good Tech for Good Life… (at Haziq Tech)